In the compact SUV class, there are many fierce competitors. With so many good choices, drivers might find it difficult to determine which vehicle will best fit their needs. Two frequently compared compact SUVs are the Toyota RAV4 and Ford Escape. Both offer a variety of models and an entry-level price that is attractive to buyers on a budget.
2021 Ford Escape Overview

The 2021 Ford Edge might be an SUV, but it drives like a car--and that's a good thing. It offers powerful acceleration with all its engine options, including two hybrid versions. Its smooth driving experience is a bonus for seasoned drivers and new ones alike. For those wanting adventure out on rougher terrain, unfortunately, the Escape lacks an off-road version to adequately compete against the new RAV4 TRD.
But that does not mean that the Ford Escape itself cannot compete against the RAV4 because it does. It offers a handsomely styled exterior and quality-filled interior. Its stylish cabin offers nice furnishings and upgraded refinement with the addition of new features on its models for 2021.
2021 Toyota RAV4 Overview

The Toyota RAV4 is one of the most popular compact SUVs on the market, offering a capable and dependable vehicle for any driver. With 12 different models available in both gas and hybrid engines, there is a Toyota RAV4 for everyone, including those wanting a compact SUV that can go off-roading.
The RAV4 is built for practicality, filled with durable materials and offering a car-like drive. However, the entry-level LE lacks many standard features such as power-adjustable seats, push-button start, and higher-end river-assistance features that the Escape provides.
2021 Ford Escape vs 2021 Toyota RAV Features
Similar in size and style, the slight differences provide the real edge to the 2021 Ford Escape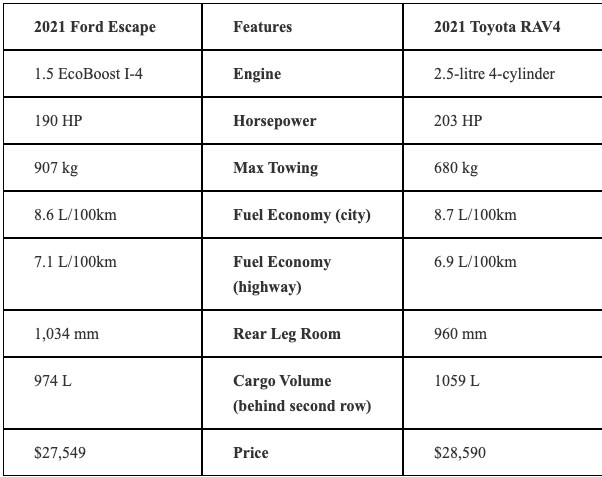 In terms of capability for both towing and passenger hauling, the 2021 Ford Escape comes out on top with better numbers. The Escape's lower starting price also matches the features offered by the RAV4 and includes more items as a standard. It offers a value for the money that the Toyota cannot match with its higher starting prices.